REPILING
An extensive but worthwhile investment, maintaining the foundations of your property is necessary to ensure the continued wellbeing of your building work. Call on the team of repiling specialists at Heritage Relevellers for top quality repair and conservation work.
What is repiling, and does my property need it?
Quite simply, repiling is the replacement of damaged or defected concrete or wooden posts (piles) that form the foundations of the building. Over time, piles can begin to rot, causing the uneven distribution of the weight of the house; in turn, this can cause uneven settling as well as movement of the ground under and around the piles.
The following signs can offer a clue as to whether your building is in need of pile repair:
Doors and windows do not close properly
Floors are at a slant or bounce as you walk through the house
Cracks appear in the plaster
Piles show visible damage
It will come as no surprise to hear that such deterioration can cause serious and ongoing damage to your property – not only that, but ensuing repair jobs can be both costly and time-consuming.
Effective pile repair can involve digging new piles down to its base, and replacing foundation piles where the previous installations have failed. Only through proper pile repair can we realign the building with its foundation.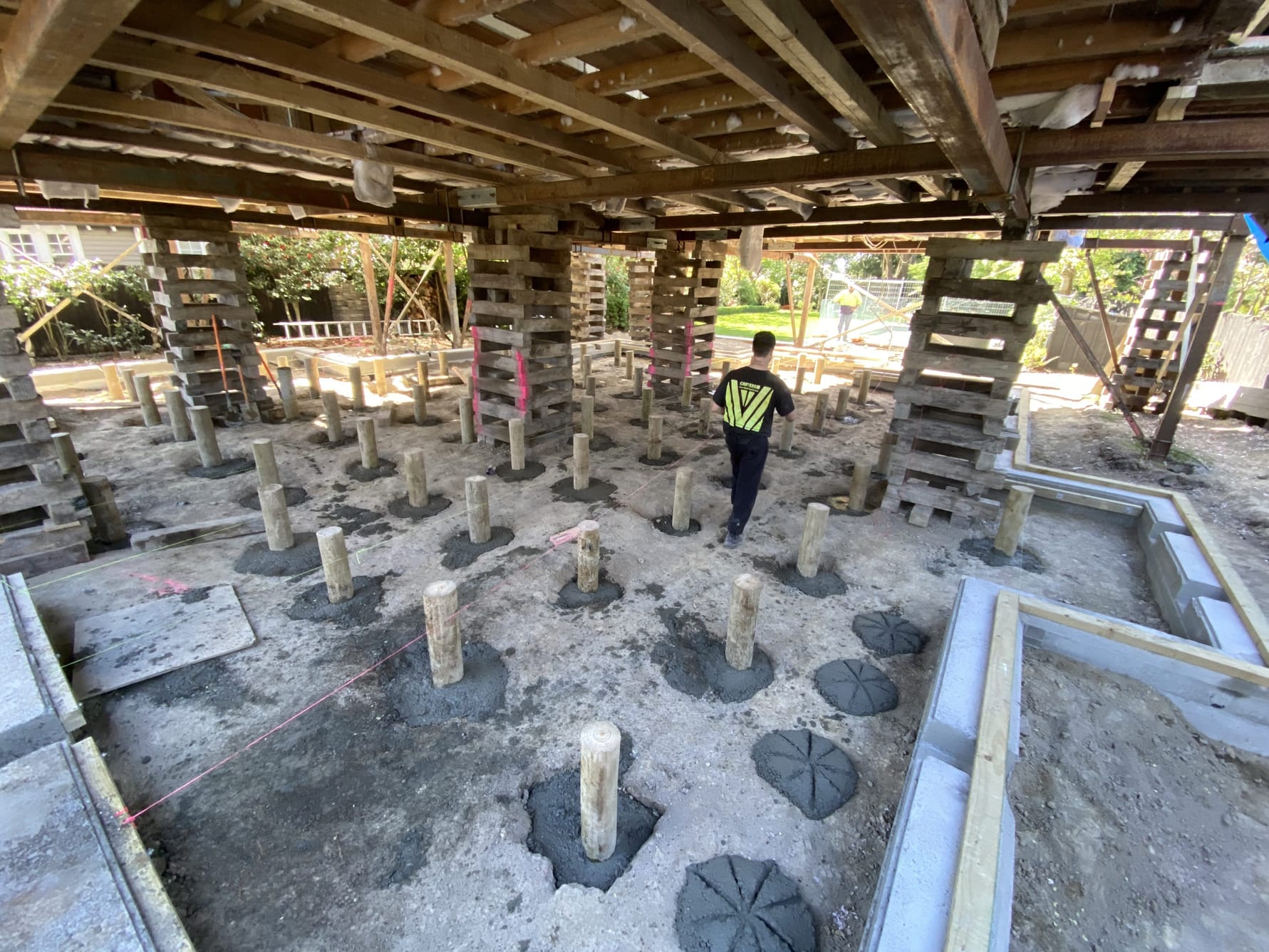 Examples Of Our Repiling Projects
More Services We Provide
Lifting and lowering homes. Lifting  up to 2.4 metres and securing them with our engineer approved high lift support system.
Rolling dwellings on site using specially designed steel rollers and rolling bed.
Relocating homes using our high lift system along with a hydraulic lifting and steering trailer system.
Repiling dwellings of all types  carried out to NZS3604 or engineers spec.
Buying and selling relocatable homes. Why Rely On Us?
We are dedicated to providing top level customer service, and will always go the extra mile to deliver honesty, integrity, innovation and excellence.
Our team of slab specialists understands that no two jobs are the same, hence our commitment to delivering a bespoke service, tailored to your specific needs. We always go the extra mile to ensure that all foundation and slab repairs are completed to the highest of standards. Plus, our years of experience ensure that we maintain strong attention to detail and carry each job with the utmost care.
Fully trained and certified, our team of slab specialists are masters of their craft. We utilise high-performance products that exceed industry standards.
Require More Information?